MCAI Members Meet in Chicago for the 2019 Annual Meeting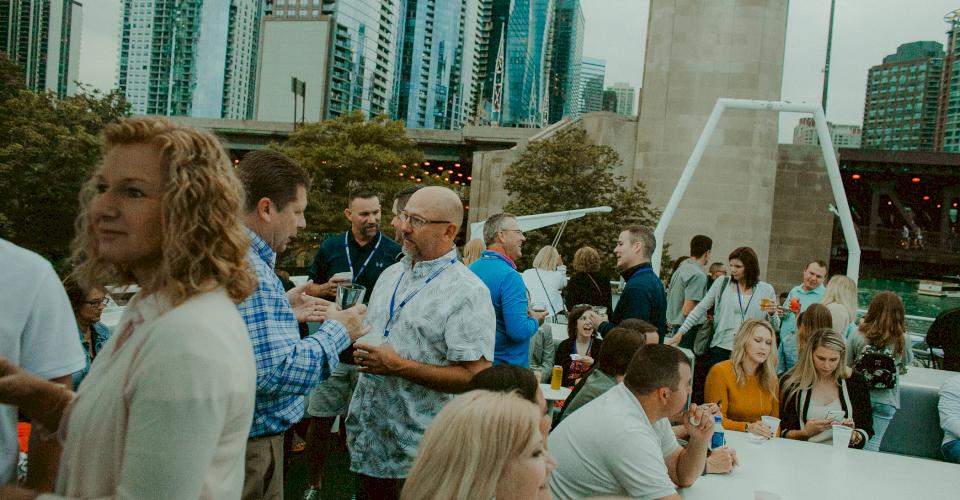 Earlier this month, MCAI members gathered in the Windy City for the 54th MCAI Annual Meeting. Members and their families participated in a week of meetings, educational sessions, networking and fun. This year's meeting was a huge success, with a chart-topping attendance equaling our previous record from the 2017 meeting in Kansas City — 202 attendees! This conference would not have been successful without the generosity of our 29 sponsors.
MCAI had a unique start to the weekend with a memorable welcome reception on the 99th floor of the Willis Tower. Guests took in the panoramic views while enjoying Chicago-themed dinner stations. Throughout the night, MCAI members and their families were offered the opportunity to visit The Ledge – an exhilarating experience where guests stood on a glass floor balcony that extended 4 feet outside the 103rd floor and 1,353 feet over Chicago.
Friday morning kicked off with the annual membership business meeting. MCAI President, Jeff Koeppel (AAA Mechanical), led the meeting,  MCAA President, Brian Helm (Mechanical, Inc.), offered insight on MCAA member resources and events being discussed, worked on and promoted at the national level, and MCAI Executive VP, Scot Stoltenberg, discussed association activities over the past year and a glimpse of MCAI activities and resources planned for the upcoming year.
Two engaging educational seminars followed. Nick Espinosa, a cybersecurity expert, provided insight on how to minimize the risk of being hacked and how to protect you and your company's privacy. Bill Benjamin led an interactive session about emotional intelligence and discussed strategies on how to best manage your thoughts and actions in a pressure-filled situation. Bill accentuated the important qualities of a leader, specifically in an environment undergoing change and disruption.  
Following the seminars, members and their families headed to "The Friendly Confines" of Wrigley Field to watch the Chicago Cubs host the New York Mets. This exclusive event gave everyone the opportunity to relax and socialize in one of the most historic ballparks around.  The Cubs fell short 4-5, but the outing hit a home run with MCAI members and their families.
Coach Dan McCarney kicked off Saturday morning's events as the breakfast keynote speaker. Coach McCarney highlighted the values and lessons learned from coaching six collegiate programs to success throughout his historic career. A significant emphasis throughout his presentation was on the three ways you can use your time: You can waste it, spend it or invest it. 
Lunch and entertainment were hosted at SPiN Chicago – a fun, interactive social club featuring 20 ping pong courts. Ping pong professionals wowed the crowd and worked one-on-one with kids and adults to improve their game.  The afternoon was open for attendees to explore and take in the sights of downtown Chicago before the final event of the weekend — a chartered dinner cruise on Lake Michigan aboard the Anita Dee II yacht. While absorbing the spectacular views of the downtown skyline, guests enjoyed live music, dinner, and a terrific fireworks display. The perfect ending to MCAI's 2019 Annual Meeting.
If you weren't able to join us this year, watch for details on next year's annual meeting. For those who attended in Chicago, thank you and we hope to see you again next year!