May Member Feature — Brecke Mechanical Contractors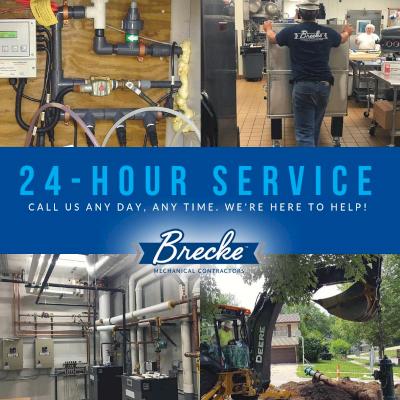 Each month, MCAI features one of our contractors or affiliates to help our members, friends, family and other industry experts get to know the companies and people who make up our association. This month's spotlight is on Brecke Mechanical Contractors.
For more than 50 years, Brecke Mechanical Contractors has been providing construction, excavation, mechanical and industrial services throughout the Midwest. A family-owned business, Brecke is committed to providing cost-effective solutions for all critical building infrastructure needs. The company has locations in Cedar Rapids and Dubuque, but is willing to go wherever their clients need.
Brecke's Industrial Services team has expertise in a wide variety of industries and provides pipefitting, process, certified welding, millwright and industrial boiler services. Over the last half century, Brecke has worked with hundreds of companies to build, maintain and service mechanical systems in various industries.
With experience providing complete construction services for all types of commercial properties, Brecke can handle any job. Their Mechanical Services team experience includes design build, estimating, AutoCAD, Trimble, HVAC, boiler, plumbing, RPZ backflow prevention, restaurant equipment, commercial refrigeration, chemical, building automation and maintenance contract services.
Experienced project managers, estimators and superintendents coordinate with customers to ensure every job gets done right, and as quickly and efficiently as possible. Brecke technicians are well trained to troubleshoot problems and perform timely repairs, and they are available 24/7 year-round, because Brecke knows an emergency can happen at any given moment.
Brecke strives for the highest standard in everything they do, and safety is no exception. Brecke has the experience and knowledge to protect the people working on their projects and the property at hand. Whether it's residential, commercial, industrial or municipal, they work diligently with OSHA, MCAA, MCAI (leveraging MCAI's Training Vault and SDS BinderWorks services), Heartland Insurance Captive group and their customers to continually find ways to keep employees working safely. 
This dedication to safety throughout the years has not gone unnoticed, as Brecke employees speak at conferences and participate as experts at safety fairs. Their focus on safety is reflected in their high grades in prequalification systems such as ISN and Avetta, as well as in their low experience modification rates, certificates and numerous awards. Many companies offer similar services, but no one takes care of their customers like Brecke.
Brecke Mechanical Contractors have been a respected MCAI member since 1970. While holding a spot on the State Board for more than 20 years, Brecke also has representation on the Cedar Rapids/Iowa City Chapter Executive Council and Industry Fund Board of Trustees, Dubuque Chapter Executive Council, Safety Committee, Service Committee and more. 
We are proud to have Brecke Mechanical Contractors as an MCAI contractor member! If you're interested in mechanical, plumbing and HVAC products, they can be reached via their website or phone at 1-800-728-7055.